Mythblaster Monday 6: Home Fire Sprinklers Really Beat the Heat
Everyday, we see countless, heartbreaking reminders of how fast a fire can destroy one's home and impact one's life. Advances in fire protection technology like smoke alarms have become widely used, but home fire sprinklers have yet to proliferate in the same way. Unfortunately, rumors and misinformation run rampant around home fire sprinklers, so in our Mythblaster Monday series we debunk a different myth each week and highlight resources that can be used to refute inaccurate information and better inform your communities about their many advantages. Today's myth is particularly misleading and adds to the misguided fear that home fire sprinklers damage property.
Myth: Smoke alarms cause fire sprinklers to activate.
Fact: Home fire sprinklers are only activated by the high temperature of a fire surrounding the sprinkler.
The logical jump for this myth is clear. When fire sprinklers are often shown activating soon after a smoke alarm sounds, people understandably link the two together. But it is simply not true. A liquid-filled bulb sits at the center of each sprinkler, and only when the temperature reaches between 135°-165°F (57°-74°C) will that bulb burst.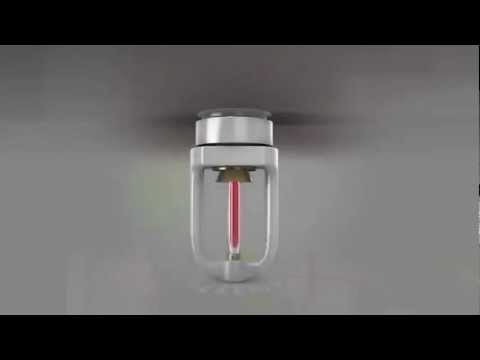 Only the sprinkler closest to the fire will activate, and a survey found that 90 percent of the time, one sprinkler was enough to control the fire.
Fire sprinklers and smoke alarms work very well together, and people benefit greatly from having both. Smoke alarms provide early detection while home fire sprinklers act as early suppression, both increasing valuable time needed to escape a home fire. The best time to install home fire sprinklers is during construction, but retrofitting is also an option. Either way, make sure to only choose contractors qualified as specialists in sprinkler installation. This brochure quickly breaks down the advantages of this life-saving technology; and legislators, community members, and AHJs can find more support for home fire sprinkler installation here. For even more resources, visit the Fire Sprinkler Initiative and Home Fire Sprinkler Coalition.
Important Notice: Any opinion expressed in this column (blog, article) is the opinion of the author and does not necessarily represent the official position of NFPA or its Technical Committees. In addition, this piece is neither intended, nor should it be relied upon, to provide professional consultation or services.